Press Coverage
We generate publicity throughout the region for our cause and our partners.
May 21, 2023
Deseret News: Utah seeks to study rail service from Salt Lake to Boise, Las Vegas
"The possible commuter rail study comes as passenger rail advocates pushed for Utah to consider adding more rail service. Dan Bilka, the co-founder of the nonprofit rail advocacy organization All Aboard Northwest, told KSL.com last year that he believes trains could help improve the country's transportation infrastructure, providing more options than what's on the road or in the air."
April 19, 2023
Hells Canyon Journal: "Grassroots Group Works To Reinstate Eastern Oregon Passenger Rail Service"
March 15, 2023
Real Change News: "#Washington state could be squandering a unique opportunity to invest in expanded passenger #rail service with federal funds that were authorized in the 2021 bipartisan infrastructure act, transportation advocates say."
March 6, 2023
KIMA TV: Advocates say a new federal study could bring a passenger train route back through Yakima
March 4, 2023
Yakima Herald: Advocates hope federal passenger rail study will include Yakima Valley
March 1, 2023
High Country News: Trains in the West then, now — and someday?
September 19, 2022
KSL News: A Utah train to Idaho? Salt Lake, Boise leaders are working to restore old service
August 21, 2022
KSL News: Do Utah and the West need more passenger trains? These groups make the argument
August 19, 2022
Sweetwater Now: RS City Council Hears Pitch on Return of Passenger Train Service
August 18, 2022
Western Governors' Association: Best of the West: Regional investments in trains
August 17, 2022
Wyoming News: Transforming a community: Guest speakers share benefits of passenger rail service
August 17, 2022
City of Rock Springs YouTube: Returning Passenger Trains to a Station Near You
August 14, 2022
La Grande Observer: All Aboard Northwest stops in La Grande to advocate for passenger rail
August 11, 2022
La Grande Observer: All Aboard Northwest comes to La Grande to advocate for passenger rails
August 11, 2022
East Oregonian: All Aboard Northwest comes to Pendleton to advocate for passenger rails
August 11, 2022
Elkhorn Media Group: A Push for Passenger Rail in the Pacific Northwest
August 10, 2022
Salt Lake City Weekly: All Aboard
June 16, 2022
Railway Age: Forbes and Ike Brannon Have It All Wrong
Opinion from AANW's Dan Bilka. "Ignoring the "Hinterlands," the heartland of America, as Jack Kemp Institute Senior Fellow Ike Brannon champions in his Forbes article, "Amtrak's Expansion To The Hinterlands Will Be Costly To The Government & The Economy," will in reality be expensive to the U.S. government, the economy and the American way of life."
May 6, 2022
Wyoming Public Media: A non-profit organization is advocating for the return of passenger rail service in rural regions
"All Aboard Northwest is…advocating for expanding passenger rail service to underserved or unserved communities in the Pacific Northwest, the Mountain West, and the Midwest. Formally launched earlier this year, it's involved in lobbying efforts, community engagement and education…on how passenger access would affect communities."
February 16, 2022
AAWA Discusses Rail Funding on KING5 TV
January 18, 2022
Fast Company: AAWA's Charles Hamilton on why the Pioneer and North Coast Hiawatha lines should be revived
December 23, 2021
Elkhorn Media Group: Rail advocates discuss return to passenger service
December 3, 2021
Cheney Free Press: "All Aboard Washington will host an online meeting Saturday, Dec. 11, to review actions being planned for next year in the organization's effort to return passenger train service to several Eastern Washington cities."
November 18, 2021
AAWA's Charlie Hamilton expresses confidence in the new bypass route on KIRO TV
November 18, 2021
"Rail advocates argue new lines will grow the economy, shrink mobility inequalities and help decarbonize the region" AAWA's Hamilton interviewed
November 16, 2021
"Yakima could see highway, airport and rail funding as a result of infrastructure bill"
November 11, 2021
AAWA's Charles Hamilton weighs in on "What the infrastructure bill might do for rail transportation in Washington and Idaho" in the Spokane Spokesman-Review.
September 27, 2021
All Aboard Washington's Patrick Carnahan speaks about rail safety on KHQ Spokane.
September 9, 2021
Ritzville Journal: "To Cheney and Ritzville, a new rail system implies increased connectivity to traditionally bypassed towns, and a much-needed economic boost."
August 31, 2021
The Urbanist: "All Aboard Washington Releases New Passenger Rail Vision Map"
August 26, 2021
2021 Train Trek: Cheney
August 20, 2021
2021 Train Trek: Ellensburg and Cle Elum
August 19, 2021
2021 Train Trek: Spokane and Cheney
August 18, 2021
Pacific Northwest Rail Forum
August 10, 2021
2021 Train Trek: Tri-Cities
August 6, 2021
2021 Train Trek: Clarkston-Lewiston
August 3, 2021
AAWA is front-page news in Ritzville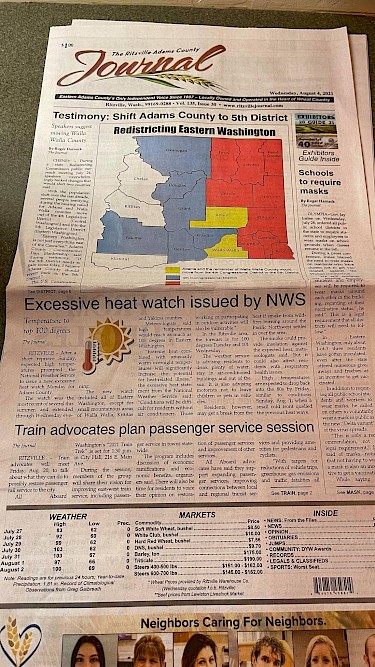 August 3, 2021
2021 Train Trek: Edmonds
August 2, 2021
2021 Train Trek: Walla Walla
August 2, 2021
2021 Train Trek: Toppenish
July 31, 2021
2021 Train Trek: Yakima
July 30, 2021
2021 Train Trek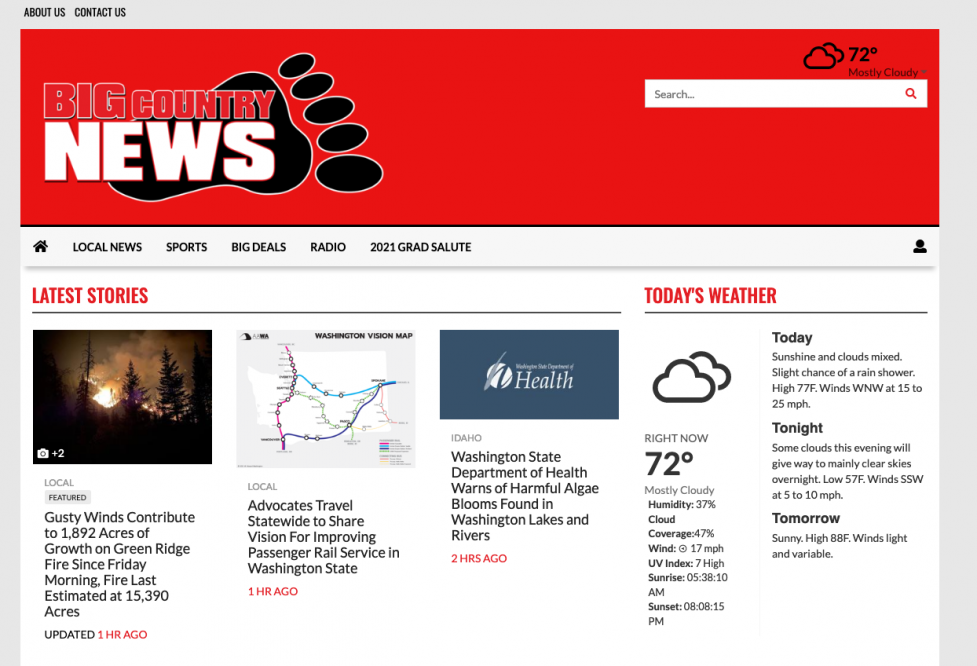 July 30, 2021
2021 Train Trek Levenworth
July 30, 2021
2021 Train Trek Wenatchee
June 7, 2021
AAWA's Patrick Carnahan's article on "Reviving a Rail Revolution: How Washington Can Get Back On Track"
May 26, 2021
Spokane Spokesman-Review: Amtrak loses money on long-distance routes like the Empire Builder, but passengers say they offer a service worth investing in (PDF)
'Harvey Bowen, the Rail Passengers Association's Washington state representative, said adding trips on shorter-distance routes could help fix some of the shortcomings of Amtrak's long-distance routes.
'"One of the major existing problems with the Empire Builder, and indeed many existing routes, is that it serves certain cities in the middle of the night, such as Spokane," Bowen wrote in an email.
'"There also is not enough equipment so the train is often sold out," he added. "Due to being chronically sold out, ticket prices rise and is a problem for equity with people who have limited financial resources to travel."
'Investing in more frequent trips on shorter routes could also make train travel more popular as it becomes more convenient, said Charlie Hamilton, co-executive director of the rail travel advocacy group All Aboard Washington.
'"One train a day is fine as a starting point, but it needs to be multiple (trains) in order to be successful," he said. "If you look at California, the fact that they have been so successful is very much related to the fact that they run very frequently."'
https://www.spokesman.com/stories/2021/may/26/amtrak-loses-money-on-long-distance-routes-like-th/
Orion Donovan-Smith's reporting for The Spokesman-Review is funded in part by Report for America and by members of the Spokane community. This story can be republished by other organizations for free under a Creative Commons license.

April 22, 2021
The Urbanist says "Passenger rail advocacy group All Aboard Washington has suggested restoring Cascades' northern service to Bellingham and even Blaine despite the border closure."
April 21, 2021
Rapid City Journal: BILKA: A South Dakota passenger rail vision
April 13, 2021
AAWA's Patrick Carnahan talks about transportation equity for all parts of the state on KHQ television, Spokane (around 6 minutes into the episode).
March 11, 2021
The Urbanist posts about AAWA's presentation to the WA House Transportation Committee
March 10, 2021
Spokane Spokesman-Review: "Pandemic relief bill would restore daily Empire Builder train service — and advocates push for more"
February 16, 2021
Sierra Club Washington: "How passenger rail is integral to our environmental goals and can help fight climate change"
January 17, 2021
KIRO 7 TV: "Amtrak testing trains at Point Defiance Bypass for first time since deadly 2017 derailment"
November 9, 2020
"Daily passenger rail service ends in Spokane; can it come back?"